Alcohol Screeners
The Alcovisor® Satellite is a NHTSA certified, affordable hand-held breath alcohol screening device (ASD). In addition to its use as an (ASD), the Satellite also features an onboard power bank allowing the unit to charge your other USB devices through the use of one of the included USB cables.

The Alcovisor® Satellite is accurate and reliable, allowing a complete breath test procedure to be conducted in about 30 seconds or less making it an effective choice for law enforcement, schools and work place testing.

Its compact size and ease of use make it an ideal choice for an alcohol screening device for personal use.

The Satellite is powered by a rechargeable Li-Ion battery inside the unit allowing the device to be conveniently charged using one of the included USB cables. The unit can also be used as a flashlight and has the ability to recall the last 10 tests taken.

ORDER $132.00

Includes

Alcovisor Satellite Alcohol Screening Device
Carrying Pouch
(2) USB Power Cables
(5) Individually Wrapped Mouthpieces Plus 50 extra (55 total)
Operating Manual

The Alcovisor® MARS is a NHTSA certified, affordable hand-held breath Alcohol Screening Device (ASD) that offers both ease of use and unsurpassed reliability and accuracy.

Just attach the mouthpiece, turn the unit on, take a deep breath and BLOW. It's that easy!

The Alcovisor® MARS is accurate and reliable, allowing a complete breath test procedure to be conducted in about 30 seconds or less making it an effective choice for law enforcement , schools and work place testing. Its compact size and ease of use make it an ideal choice for an alcohol screening device for personal use.

ORDER $114.00

Includes

Alcovisor MARS Alcohol Screening Device
Nylon Carrying Pouch
(3) AAA Batteries
(5) Individually Wrapped Mouthpieces Plus 50 extra (55 total)
Operating Manual

NEED MORE MOUTH PIECES

Alcovisor Satellite or the MARS/ Mouthpieces: 50 Pack mouth pieces ORDER $12.00
---
P.A.S Sentry Passive Alcohol Testing Device - Screener
The P.A.S Sentry is a passive alcohol testing device designed to sniff a subject's breath for the presence of alcohol. To perform a test the operator presses the Start button and the subject blows towards the P.A.S Sentry from a distance of several inches. A fan inside the device pulls in a portion of the subject's breath to analyze for alcohol. Because the device does not use mouthpieces or batteries there is no ongoing operating cost to use the P.A.S Sentry. The P.A.S Sentry is great for substance abuse facilities and shelters who need to quickly screen their clients for the presence of alcohol.
Light Bar Indicates Presence of Alcohol on the breath
The P.A.S Sentry uses a series of colored lights to indicate the presence and relative amount of alcohol on a subject's breath. A subject with no alcohol on their breath will only trigger the first green light on the device. If a subject's breath contains alcohol, a series of yellow and red lights turn on to indicate the presence and approximate amount of alcohol in the breath.
Fuel Cell Sensor Specific for Alcohol
The P.A.S Sentry uses fuel cell technology, which detects alcohol molecules and converts alcohol molecules to electrons. Fuel cell sensors are typically used in top-of-the-line evidential breath alcohol testers because of their ability to detect low amounts of alcohol and because they are specific to alcohol. That means that operators using the P.A.S Sentry can have a high degree of confidence that positive results are due only to alcohol and not due to another substance such as acetone.

Wall Mount for Easy Access
The P.A.S Sentry comes with a wall-mount system so that it is readily accessible for testing. This feature is particularly useful in settings such as shelters and halfway houses that routinely test clients every time they enter the facility. The Velcro mounting tape included with the kit makes it easy for staff to remove the P.A.S Sentry from the wall to store the unit when it's not in use.
PAS Sentry Breath Alcohol Analyzer WALL MOUNT UNIT item # 502 A
P.A.S Sentry Passive Alcohol Testing Device - Screener $539.00 ORDER
MERCURY LE Alcohol Screener TOUCH SCREEN TECHNOLOGY
MERCURY LE ALCOVISOR. item # 475

The Mercury-LE uses an alcohol specific Platinum Electrochemical fuel cell paired with touch screen technology making this a valuable tool for Law Enforcement in establishing probable cause.

NHTSA Certified Evidential Breath Tester

Platinum Electrochemical fuel cell generates an electrical current in response to alcohol vapor.

Meets DOT specifications +/- 0.005% up to 0.100% BrAC and +/-5% above 0.100% BrAC

0.001% (digital display)

0.00 to 0.400 BrAC

5 seconds or less Response Time

Automatically takes deep lung sample or tests manually

Screening cup provided

Up to 10 seconds continuous breath - minimum 2.5 seconds

% BrAC, mg/l, mg/100ml, or any other units

14F to 122F (-10 to +50C)

-13F to 158F (-25 to 70C); not more than 90% relative humidity

2" TFT color touch screen

5.5" (13.9cm) x 2.5" (6.3cm) x 1.5" (3.8cm)

0.56 lbs (254 grams)

Programmed self-check assures unit is operational upon power up.

Four (4) AA disposable Alkaline Batteries

12 volt auto adapter

Real time clock

10,000 test records including all information

Automatically actuated electronic pump - No cocking required

Affordable, sanitary, and individually wrapped mouthpieces

Annually with monthly accuracy checks. Using Dry Gas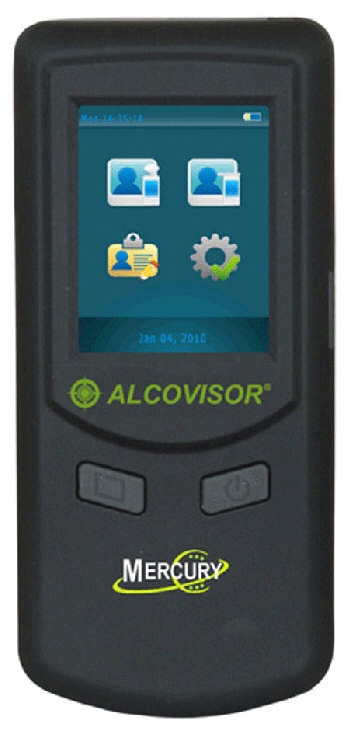 Easy to Use • Affordable • Accurate

Touch Screen Technology - 2" Screen

Evidential Accuracy

Data Input Capability - No Keyboard Required

10,000 Test Records Memory

Ejectable Mouthpiece- Sanitary, Hands-Free Use

LED Light for Mouthpiece Insertion

Calibration and User Settings are Password Protected

Mercury LE Package includes:

Mercury Alcovisor Professional Breath Alcohol Instrument

Hard Plastic Carrying Case

Nylon Belt Pouch Auto Power Adapter

4 AA Batteries 105 Mouthpieces

1 Screening Cup Instruction Manual

1 Year Warranty: Parts & Labor on Manufacturing Defects

Mercury LE $549.00 ORDER

$39.20

MERCURY MOUTH PIECES 100 cnt bag ORDER

PAS V Passive Alcohol Sensor LED Flashlight with UV Secondary Light
item # 305 V BLUE UV light.
Is the next generation of passive alcohol sensors.
A) LED 3-mode flashlight
B) A dynamic sampling system and c) an alcohol sensor to "sniff" the ambient air, breath, open containers or enclosed spaces for the presence of alcohol with a push of a button.
The LED light offers 3 modes: high, low and strobe while providing up to 3Xs longer battery life per charge.
This hand-held, rapid alcohol detection instrument uses a platinum electrochemical fuel cell sensor of high alcohol specificity, accuracy and stability. The operator-controlled sampling system guarantees accurate detection of alcohol, and is especially suited for quick subsequent measurements making it ideal for use at DUI checkpoints or any Zero Tolerance applications.
The unit is designed to be used to check alcohol presence/absence with or without a subject's direct participation. There is no mouthpiece and the subject does not need to blow directly into the intake port. The instrument is easy to use and can be operated with one hand, leaving the other completely free. It has been designed to withstand the physical conditions experienced in operational situations and is resistant to adverse weather conditions and mechanical shocks. In addition to the LED lamp module, the PAS V has a UV secondary investigative light built into the back of the flashlight tube.
The PAS V Screening System comes complete with:
Carrying Case AC Adapter Auto Adapter Recharging System Rechargeable Battery Quick Check Card Instructional DVD Instruction Manual Calibration Manual Twelve-Month Warranty on parts and labor. Two-year warranty on fuel cell.
PAS V Passive Alcohol Sensor LED Flashlight with UV Secondary Light
item # 305 V BLUE UV light. $679.00 ORDER
Comes with the
Calibration Adapter Assembly for Calibration of the PAS IV and V Passive Alcohol Sensor Flashlight.
Includes: Jeweler's Screwdriver 2 Modified Calibration Mouthpieces
FLASHLIGHTS - TWO DIFFERENT STYLES OF LIGHTS TO CHOOSE FROM
PAS IV Passive Alcohol Sensor LED Flashlight with HGN Secondary Light item # 304 IV GREEN
HGN $679.00 ORDER
PAS V Passive Alcohol Sensor LED Flashlight with UV Secondary Light item # 305 V BLUE UV light. $679.00
ORDER
Check out the Evidential Breath Alcohol Machines
Function Combines police-grade flashlight with device for detecting low levels of airborne alcohol in exhaled breath, in vehicles and other enclosed spaces, or over beverage containers
Flashlight 3-Mode LED lamp module: High, Low and Strobe. 1000 Lumens. Optimized light dispersion with intense center beam

Alcohol Sensor Platinum Electrochemical fuel cell generates an electrical current in response to alcohol vapor. The microcontroller will automatically turn off the sensor after about 45 seconds, should you forget to turn off the sensor.

Cell Heater Built-in heater regulates fuel cell temperature at 104F (40C) whenever the flashlight is on. Specificity Fuel cell detects only alcohol. It is unaffected by acetone, paint or glue fumes, foods, confectionary, methane, and practically any other substance likely to be found in the breath. Calibration Performed at the factory. Additional field calibration procedure provided.
Calibration checks are recommended every six (6) months or more frequently if the unit appears to be losing sensitivity.

Air Sample Pump runs for 5 seconds and draws in a 1 cu. in. (15ml) air sample (nominal figures).

Display Color-coded 9-element LED bar graph display.
Peak Reading 2-10 seconds at 104F (40C). Longer at lower temperatures unless fuel cell heater is on.

Recovery Time 30 seconds - 2 minutes after a positive reading; longer if fuel cell is overloaded or heater is off. Power Supply Nickel Metal Hydride (NiMH) rechargeable battery (no memory). Charger operable from 12-volt DC or 110-volt AC power.

Battery Capacity 2.3 amp-hrs; good for 80-90 minutes of continuous use if charged using the Reset procedure. Store unit in the charger to keep fully charged between use.
Charging Time Approx. 3.5 hrs to recharge fully discharged battery using the AC/DC Fast Charger Cradle Unit and the Reset procedure.
Environmental Operating temperature range: 0 to 104F (-18 to +40C). The PAS IV housing is weather resistant.

Dimensions 12" (300mm) long x 1.5" (38mm) diameter, increasing to 2.2" (56mm) at head.

Weight 1.5 lb (0.68kg) with batteries